News
Must-Have Furniture And Decor In Our Homes This CNY Season
by Invis Furniture on Jan 16, 2023
It's the fresh start of 2023 and we all know what that means: The annual season of the kaleidoscope of red, orange and gold is approaching. Every Singaporean knows that the period leading up to Chinese New Year will be a plethora of Chinese New Year songs and sales. Knowing the average Kiasu Singaporean, most of us will be preparing for the incoming festive season by burying ourselves in an array of tasks. Be it shopping for Chinese New Year goodies, spring cleaning our homes or picking the perfect outfit for the first day of Chinese New Year, there's something for everyone to prepare for Chinese New Year. Out of all the Chinese New Year tasks, there is one that most family-oriented individuals couldn't resist on doing. That is, finding furniture and decorative set pieces to enhance the Chinese New Year vibe of their homes. As time is running short to prep for Chinese New Year, we have compiled a list of trending Chinese New Year household items that are not only just aesthetically pleasing in your household, but also functional as well.
Item 1: Ang Bao (Red packets)
This is a no brainer. Not only do red packets serve as a symbol of fortune, luck and prosperity for this festive occasion (And an incentive for many youngsters to put on their best behaviour when visiting other people's homes), they also can be great decorative items for display in your home.
Image Credit: dribbble.com
If you have any spare red packets or have kept some from last year, instead of throwing them away, you can consider re-using them to add some Chinese New Year spirit to your home. Not only do the red packets serve as fantastic decorative items, fitting for the Chinese New Year season, they are also the cheapest decorative items to put on display. You can decorate red packets as display pieces and even create a temporary wall mural out of them. If you're in the mood for some arts and crafts, you can also learn how to cut and fold these red packets, transforming them into origami crafts such as fishes, ingots, and lanterns etc.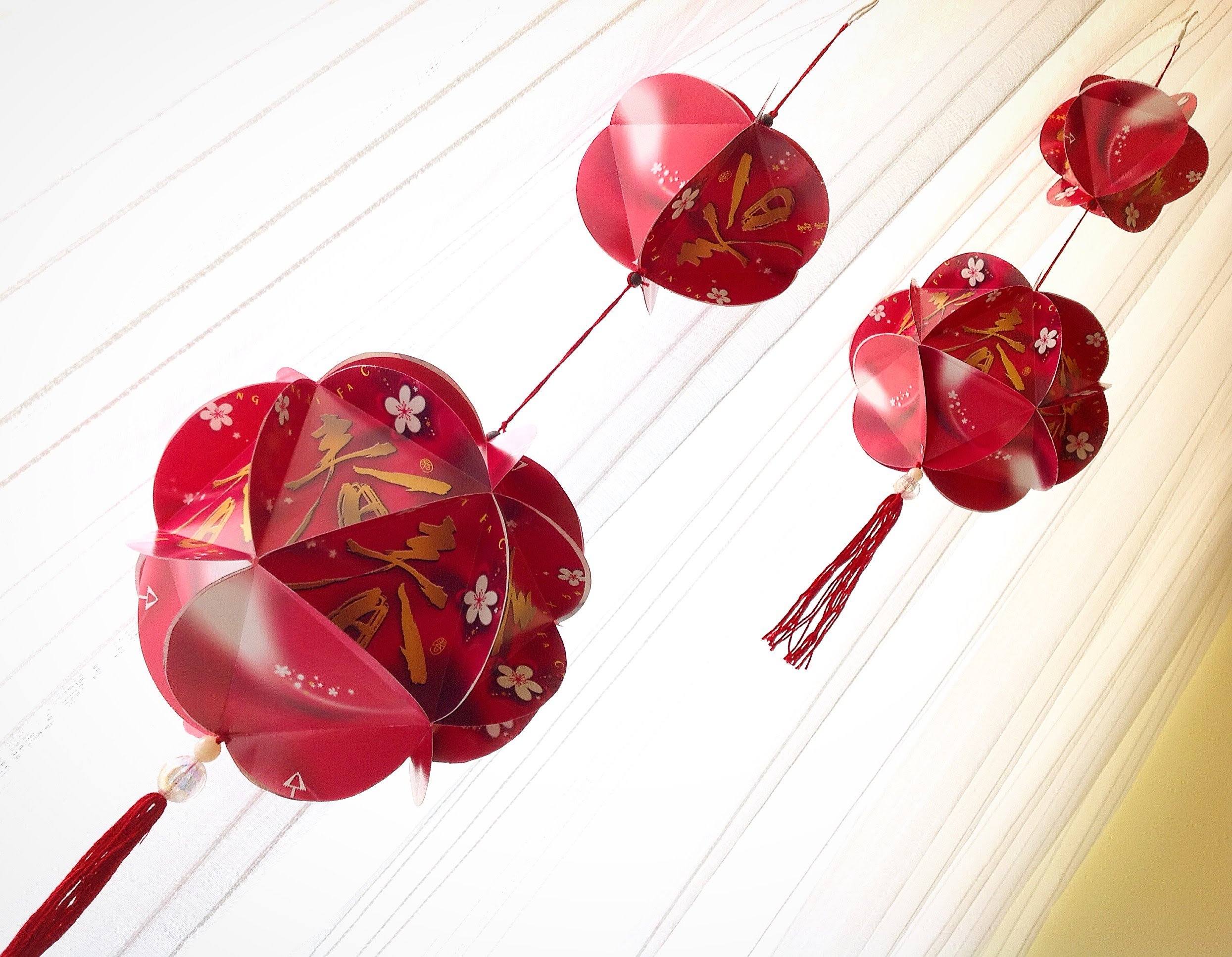 Image credits: @UpcycleLiving on Twitter
By incorporating red packets as home decor, not only do they help elevate the mood of Chinese New Year in your home, they are also believed to usher in more fortune, luck and prosperity into your home.
Item 2: Cushion Covers
Tired of using the same Chinese New Year pillows every year, but don't want to buy a new set of pillows? Consider getting a cushion cover to give the cushions in your living room an updated look. Cushion covers not only give your pillows a much more newer and fresher look for the season of Chinese New Year, they can also act as protection for your pillows and cushions. These items are heavily sourced for during the period before Chinese New Year as many Singaporean families appreciate a breath of fresh air when it comes to their home's interior design. Cushion covers can come in a variety of designs, colours, and prices, so if you're afraid of not being able to get one that is perfect for your cushions, don't be. These products are also so accessible, that they can even be seen being sold in town markets or nearby HDB blocks.
Image credits: tjori.com
Item 3: Tablecloths & Runners
If you're the type that loves having guests over for a late-night Mahjong session, or you're in charge of hosting this year's family reunion dinner, be prepared for messes such as stains and spills on your furniture. Based on personal experience, what saved most of my table surfaces from getting dirty are tablecloths
Image credits: rebeccachan.ca
Image Credits: rhballard.com
To get into the specifics of coated tablecloths, they are made out of cotton coated with a double layer of acrylic coating, enabling you to wipe away stains or spills from the material without breaking a sweat. One of the best functions of a coated tablecloth is that you don't have to worry much about having to deal with the trouble of cleaning up excessively after a meal. With a coated tablecloth, you can just use a wet cloth to just wipe away any stains, spills or food leftovers without having to wash the tablecloth with a washing machine. Contrary to popular belief that coated tablecloths are not as appealing as compared to actual tablecloths, coated tablecloths can actually enhance the look of your dining room space. It eventually comes down to how you decide to choose a tablecloth that matches with the overall visual of your dining room.
Image Credits: shanulka.com
Coated tablecloths can be purchased from online shopping platforms such as SHEIN and some hardware stores around neighbourhood residential areas. Another option you can consider, if you want your dining table to stand out more over others, is to get a simple table runner that accentuates the look of your dining table.
Image credits: aliexpress.com
Table runners may not be able to give your table as much coverage and protection as compared to a tablecloth, but it can still serve the functionality of protecting the middle of your table from stains and spills. Getting a scarlet or bright red table runner for the Chinese New Year season that contrasts with your dark table top is a sight that will leave your guests praising your home decoration skills.
Item 4: Stackable Stools
When the Chinese New Year season kicks in, your home needs to be equipped with sufficient seating options to accommodate your guests. For the purpose of entertaining guests, it would be best to have stackable stools for guests to sit on and when these stools are not in use, they can be kept without compromising any space within your home. These stools are priced at an affordable price and can be bought online or at your nearest furniture store.
Image Credits: aliexpress.com
The downside of these stools is that it can make the interior of your home look cheap. Another alternative to the stackable stools, if you don't mind spending more on your budget is to invest in Invis Furniture's infinity cube.
Product: Infinity Cube
The infinity cube is an elegant looking seating piece that can be used to accommodate seats for up to 5 people. When you don't need to have the 5-seater, you can keep the seats back into the cube, which not only still retains the refined look of the furniture piece, but it also helps save space in your home, giving it a less cluttered look.
Item 5: Expandable table
As Chinese New Year is the season of gatherings with friends and family, your dining table needs to be able to accommodate more people for meals. A table that can expand is a good investment to add to your home as it is not only functional for the use of many people during Chinese New Year, but it can also be useful for other special occasions when your home is needed to host gatherings or parties. Currently, Invis Furniture is having a special CNY promotion for one of our expanding space-saving tables, the V1 Bento Console dining table. You can use the code CNYV1 when you check out from our online store to get that attractive discount. The table is scruff resistant and also easy to clean when it comes to stains and spills, so you don't have to worry about dealing with big messes caused by your guests during this festive occasion.
Product: Bento Console Dining Table - V1
So, what are you waiting for? Chinese New Year is coming in hot in less than two weeks. It's time to start grabbing these items and throw them into your shopping cart before they are all gone. Don't say we didn't tell you earlier. Happy Chinese New Year everyone and may the year of the rabbit bless you with great fortune, luck and health.
Written by: Gavin Han
Featured Image Credit: dribbble.com